October 3rd-14th, 2022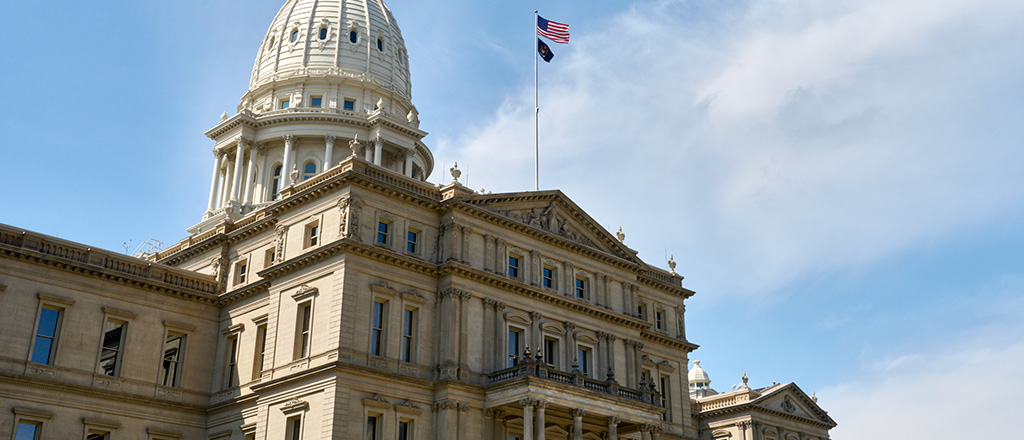 Upcoming events
Tuesday, November 8th, 2022
General Election
Wednesday, November 9th, 2022
Tentative House and Senate Session Day
Thursday, November 10th, 2022
Tentative House and Senate Session Day
Governor Signs Economic Development, School Aid Appropriations Bills
On Tuesday October 4, Governor Gretchen Whitmer signed Senate Bill 844, the $1 billion supplemental appropriation bill that would mainly provide additional funding for the Strategic Outreach and Attraction Reserve (SOAR) Fund.
Items in the economic development supplemental include, among other things, $496 million for future economic investments, $350 million for site development statewide, and $27 million to secure an investment from Hemlock Semiconductor to produce chips in Michigan.
Governor Gretchen Whitmer later signed Senate Bill 842 on October 12, a supplemental appropriations bill which established the Michigan Achievement Scholarship. Beginning with the class of 2023, high school graduates are eligible for additional financial aid through the state. The scholarship program will cover 94 percent of community college students, 76 percent of public university students, and 79 percent of private college or university students. FAFSA, the Free Application for Federal Student Aid, will be used to determine need.
The Executive Office and Legislative leaders celebrated the signing of both bills. On SB 844, Senate Appropriations Chairman Jim Stamas (R-Midland) shared, "Economic development is critical to our future. As our economy faces the challenges of high inflation, labor shortages and supply-chain issues, we must help our state remain competitive for long-term, high-wage jobs." On SB 842, Senate Appropriations Subcommittee on Universities and Community Colleges Chairwoman Senator Kim LaSata (R-Niles) said, "Expanding the eligibility of this scholarship to cover traditional classroom education, as well as hands-on training at a skilled trades academy, is a great way to both strengthen and diversify Michigan's workforce."
MDHHS Begins Test to Treat Program
The Michigan Department of Health and Human Services (MDHHS) is launching a Test to Treat program at thirteen locations across the state. These sites will offer no-cost COVID-19 testing and oral medications in an effort to reduce hospitalizations and support faster recoveries, as well as on-site telehealth services for those that are positive for COVID-19.
Specific criteria were used in selecting communities offering telehealth services. Communities with a High Social Vulnerability Index, a high percentage of people over the age of fifty having tested at the site, limited access to health care sites outside of emergency departments, and high testing rates were considered when identifying the neighborhood sites.
Michigan is the first state nationwide to implement this federal initiative at neighborhood testing sites. Locations can be found here.
Michigan Attorney General Joins Coalition to Support ACA
Michigan Attorney General Dana Nessel joined 23 attorneys general in sending a letter to the U.S. Department of Health and Human Services' (HHS) regarding a new proposed rule that seeks to enforce Section 1557 of the Affordable Care Act (ACA), which prohibits discrimination based on race, color, ethnicity, age, disability and literacy.
Since its inception in 2016 under the Obama Administration, the rule enforcing Section 1557 has been subject to ongoing litigation. It was most recently rewritten, and effectively weakened, by President Trump in 2020. The proposed rule under the Biden Administration, revises the Trump-era interpretation, and aims to largely reinstate significant aspects of the original 2016 rule.
Among other things, the proposed rule would apply prohibitions against discrimination under Section 1557 to many health insurers and third-party administrators, as well as providers who receive payment through the Medicare Part B program. That includes discrimination against various minority groups, including communities of color, women, LGBTQ+ individuals, people with disabilities, people with pregnancy-related conditions, and people with limited English proficiency.
MDHHS Promotes New Crisis Hotline
The Michigan Department of Health and Human Services (MDHHS) is promoting Michigan's new crisis hotline as a part of Domestic Violence Awareness Month.
The hotline provides 24/7 live one-on-one crisis support for victims and survivors, as well as support people and professionals. The hotline is free and provides local support through trained advocates who are available to call, text, or chat online. All hotline services can be accessed here.
Michigan Takes Action to Lower Insulin Cost
On October 3, Governor Gretchen Whitmer signed an executive directive focused on lowering the cost of insulin.
Under the Directive, Governor Whitmer tasked various Michigan departments and agencies with determining the feasibility of lowering costs and taking action on holding drug companies accountable. State of Michigan departments are to search for options to reduce insulin costs, which include the development of lower-cost products and the establishment of manufacturing facilities to produce insulin in Michigan.
Michigan Attorney General Dana Nessel also voiced support for better access to insulin. Previously, her department took legal action in January to enforce the Michigan Consumer Protection Act against drug companies which she claims, "has been wrongly interpreted for too long." The act prohibits unfair and deceptive practices such as raising the pricing of certain drugs. Chief Medical Executive, Dr. Natasha Bagdasarian, commented on how reducing the cost of insulin will help improve the health of residents since high prices of insulin make access to care difficult to those who are trying to manage diabetes.
Prior to the Governor's Executive Order, Senator Curt VanderWall (R-Ludington) introduced two different resolutions urging Governor Whitmer and different state departments to take action to make insulin more accessible and affordable. Senate Resolution 170 was adopted by the Senate on September 28. Senate Concurrent Resolution 29 was referred to the Committee on Health Policy and Human Services.
912,794 Michiganders have been diagnosed with diabetes and have more than twice the medical expenses than those who do not suffer from the disease. The directive can be found here
Capitol Christmas Tree Selected
The Michigan Department of Technology, Management & Budget (DTMB) selected the official state Christmas tree for the 2022 holiday season.
The 63-foot-tall spruce will be harvested from St. Johns – the first tree from Clinton County and the twelfth tree that has been chosen from the Lower Peninsula since the tradition began in 1987. The tree will arrive on the Capitol grounds on Saturday, October 29.