Abby Burnell
Government Affairs Consultant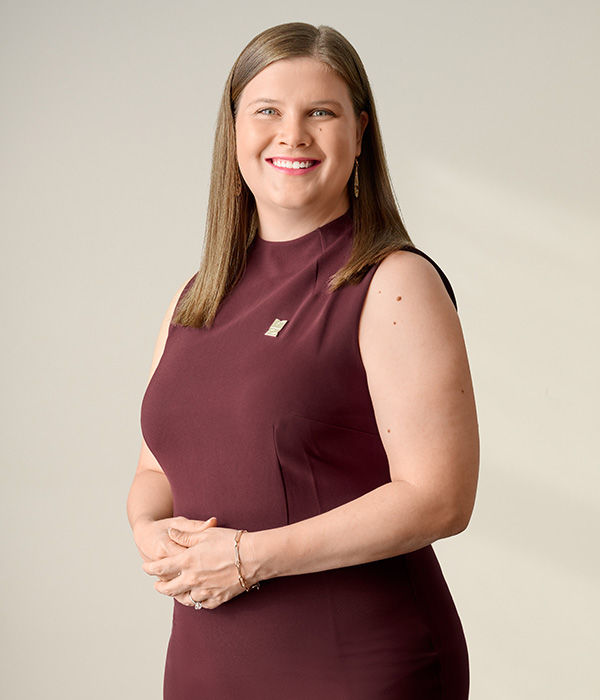 Enthusiasm for the Michigan State Spartans and her golden retriever, Garth, is just the tip of the iceberg when it comes to Abby's dedication to what she loves — and boy does she love them both! Abby's clients reap the benefits of her spirit as she pours her heart and soul into the work she does. For Abby, it's just a bonus that she gets to work with clients and on issues that inspire her.
Abby started developing her interest in health policy as an intern at the Michigan Department of Health and Human Services while completing her Bachelor of Science from Michigan State University. After graduation Abby deepened her skills in Certificate of Need (CON), working for 7 years at the Department within the Policy, Planning, and Legislative Services Administration as the Project Coordinator for the Certificate of Need Evaluation Section.
Since joining McCall Hamilton, Abby has developed a strong reputation for developing and successfully executing strategies to deliver the public policy goals our clients entrust to her. Abby's personal passion for cancer prevention, public health equity, and environmental conservation shine through in much of her work which spans the waterfront of health policy issues including maternal and child health, Medicaid, education, pharmaceutical regulation, and CON.
Speaking of CON, Abby is our lead consultant on nearly all CON applications that come through our office (more than 50 per year). In addition, she is a key player in most CON policy discussions in Michigan, being most recently named as the unofficial vice-chair of the MRI workgroup as well as playing key roles in the Hospital Bed and Nursing Home Bed Standards Advisory Committees.
Abby grew up in Niles, Michigan but now calls East Lansing home where she enjoys flower arranging and watching the U.S. Women's National Soccer Team bring home a win! She loves traveling with her husband, Niko, and dreams of visiting Africa some day.
About Abby Burnell
When you were a child, what did you want to be when you grew up?
Scientist
What is an interesting fact about you?
I only have 9 finger prints.
What is your favorite ice cream flavor?
Traverse City Cherry
Education
Bachelor of Science, Family Community Services
Michigan State University
Contact